REBEL JUKEBOX: The Falcons' 20th Anniversary Edition
(FBM-121) CD
49:30 min.

Rebel Jukebox/ Highway 99/ Dreamrider/ Island Fadeaway/ Cruel Sea/ Winter Roads/ Restless/ Half Nelson/ From Sea to Ska/ Jokers Wild/ Daughters of Night/ One Ireland/ Renegado/ Pictures of the Floating World/ The Mexican


Rebel Jukebox is #86 in the Top 100: National Campus Radio Charts for January 2013


Now on Youtube on The Falcons Music Channel:
Album title track Rebel Jukebox

REVIEWS...

The Falcons, Vancouver's own instro-surf quartet celebrate their 20th anniversary with the "All Instro – All Modern" recording, 'Rebel Jukebox' in glorious Nearstereo. Lead guitarist, Mike Beddoes explains much with his insightful liner notes. "I learned to play guitar by copying rock & roll I heard on the radio. The singers were young so I assumed that kids, just a little older than me were playing. Some of the songs were quite sophisticated and difficult but I learned them anyway. Years later, I discovered it was all a cruel hoax. Most of those 'kids' were in their 20s and 30s … some even pushing 40!" Like his inspirations, Beddoes and his buddies are now elder statesmen of their craft.
In today's music world we hear surf guitar sounds in Latin and Brazilian music, Arabic, Balkan, Russian, Cambodian, you name it. Again, we are as a species all closely tied to the ocean. Who knows from what shores the next great instro guitar surf band will arise? Like Mike Beddoes, they will have to learn the intricacies by listening closely to the masters who continue to ply and play in the shadows of pop culture bombast. The Falcons are a rare sighting; Los Straitjackets are silver foxes behind their trademark Mexican wrestling masks. But, we're very lucky indeed that these veterans are still making the music they love. You can even catch Dick Dale in concert occasionally with his son on drums.
Rebel Jukebox is a priceless collection of instrumentals, diving into the many nuances of this genre from the classic surf of 'Dreamrider', the 12-string jangle of 'Restless', the slow burn, Rumblesque 'Daughters of Night', the near-Knopfler 'One Ireland' and south of the border fry-ups like 'Renegado'. Surf culture is global culture. Thanks to bands like The Falcons and recordings like Rebel Jukebox, young players can listen and learn the music that continues to give it voice.
Cal Koat, World Beat Canada


Veteran instrumental guitar-rock combo The Falcons first released Rebel Jukebox in 2001 to rave notices. To mark the group's 20th anniversary, the album has been re-mixed and remastered in analogue, with real spring reverb. The results will thrill lovers of the genre. The Falcons mix styles nicely, incorporating rockabilly and other genres into their surf-rock based sound. If you dig The Shadows, The Ventures, or Shadowy Men on a Shadowy Planet, you'll love this. Mainman Mike Beddoes has a great tone on his lead guitar and writes real catchy tunes. Prime party aural beach mix.
Kerry Doole, New Canadian Music


After listening to a couple songs from the new edition of the Falcons' 2001 album of the same name, I feel like I'm hanging out a beach with surfer dudes and babes all around. That is a good thing. This is sophisticated instrumental surf rock and they're from Vancouver!


Erik Coates, CITR Radio, Vancouver

Remixed and remastered version of Canada's Falcons' album we reviewed enthusiastically way back in 2001. They are constantly a band we don't hear enough of so this is welcome. Favourite cuts are "Highway 99", a brilliant rocking four on the floor stomper and "Dream Rider" with Mike Beddoes' unique and enthralling lead guitar sound with excellent support throughout the band and "Island Fadeaway" a lovely gentle swinging exotica twang with great percussion. The boys put their own spin on "Cruel Sea" and "The Mexican" as bonus tracks and to their credit, they don't reflect anyone else's version. "Winter Roads" is a neat jogalong country tune while "Half Nelson" is a rocking uptempo tribute to the great Sandy Nelson and a superb job done by drummer Andre. As we said, last time ...**** (4 stars)
Davy Peckett, New Gandy Dancer, #110


As Dave noted in his review of the original album for Pipeline 52: "There's no question that The Falcons are amongst the very best of the post-'60s instro bands nor, for that matter, that their lead guitarist Mike Beddoes is the most original and distinctive guitarist working in our field today." And of the album itself: "With repeated plays you begin to venture deeper into the layers of sound, noticing little inflections and the high quality hooks and riffs as each track grows in stature. It's like an early morning flower gradually opening its petals to reveal more and more of its true beauty." Aaaah, he's an old softie really.
Falcons originals make up the core of the album which boogies from the start and continues with the infectious pounding beat of Highway 99. Fans of The Falcons will know that these are not run of the mill rockers because they are decorated with Mike's tricky, finger-picked guitar-work that flutters around each theme like a butterfly on speed. Dreamrider and Island Fadeaway are classic Falcons janglers full of resonant, aching guitar tones, while Winter Roads floats delicately like a bird over snow-filled pastures. The appropriately titled Half Nelson pays tribute to Sandy with its drum breaks and simple riffs, From Sea To Ska adopts that style's jerky beat and the punchy Jokers Wild recalls a mid-'60s Ventures album track. Shimmering guitar decorates the beautiful Daughters Of Night, twangy bass strings take the lead on the fast galloping Renegado and there's an oriental air about the exotic Pictures Of The Floating World.
Final track The Mexican features special guest Bill Bonney of The Fentones on bass. This was a bonus track on the album's first release and it is joined here by the addition of another cover in the shape of Cruel Sea, also with Bill on bass...but the big difference between this edition and its predecessor is in the sound. Mike has gone back to the original tapes to remix and remaster them, in analogue of course, and has enriched the sound quite noticeably (with the help of real spring reverb apparently). This is rock instrumental music with a subtle twist, every Pipeline reader should give The Falcons a listen and, take it from both Dave and myself, very few will be disappointed.
Alan Taylor, Pipeline Instrumental Review, #91


Rock instrumentals are deceptive, they sound easy, but they require energy and intelligence to sustain interest. Qualities that The Falcons have in abundance

.


Richard Samwell, BC Musician




First issued in 2001 and recently enhanced with extra tracks, Rebel Jukebox has The Falcons distilling its pre-Beatles era instrumental rock into a smooth whole. Occasionally, as on From Sea To Ska, The Falcons go beyond its self-imposed boundary, and in Half Nelson, for instance, members step out a little bit. In this case, drummer Andre DesLauriers sounds like he's paying tribute to Sandy Nelson. They aren't just playing at a genre but contributing to it.
Tom Harrison, The Province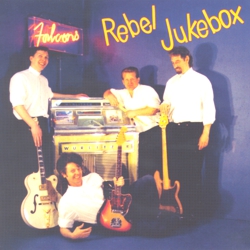 Featuring 13 classic Falcons instros

plus

Cruel Sea

and

The Mexican

with Bill Bonney of the legendary 60s UK band, The Fentones, on bass. Originally released in 2001 with liner notes by The Ventures. Re-mixed and mastered in analogue to celebrate The Falcons' 20th anniversary. Complete with a handsome cardboard cover.
Available from
iTunes, Amazon and more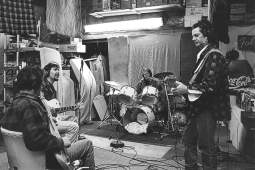 The Falcons (Gord, Gary Schnepper, Andre, Mike) recording
Rebel Jukebox
at Andre's Imperial Warehouse, Squamish, BC