CANADIAN CHRISTMAS
(FBM-041) CD
30:02 min.
Deck the Halls/ Jingle Bell Rock/ We Three Kings/ Ye Merry Gentlemen/ Angels on High/ Come all ye Faithful/ Rudolph the Red/ Silent Night/ Jingle Bells/ Meadowlands/ Wish you a Merry Christmas
Les Anges dans nos Campagnes (Angels on High): Now on Youtube.
REVIEWS...

Starting off with perhaps the rawest recording in their history, this holiday disc kicks off with a rollicking rendition of "Deck the Halls". The other 10 songs fall more in line with other Falcons recordings, with a smoother Euro-instro type sound with plenty of reverb and twang. You'll find all of your favorites here - "Jingle Bell Rock", Rudolph the Red Nosed Reindeer", and "Jingle Bells". I love the artwork too - their guitars and drums fill in as cover models, photographed in a way that makes it look like it was released by a budget label from the late 60s. Although released back in 2004, this was my favorite holiday disc of the 2011 season. * * * * 1/2
Sean Berry, The Continental Magazine

Fab local instro-rock quartet led by guitarist-arranger Mike Beddoes gives 11 Christmas classics the twangy, reverb-laden Shadows treatment. The tunes were recorded live off the floor at Kitsilano's Russian Community Centre, and, as the title says, sound pretty damned Canadian after seven or eight Molson Pilsners. Pat Gerow, a member of the Western Swing Hall of Fame, plays steel guitar on three tracks. (Recommended).
Steve Newton, The Georgia Straight, Vancouver

It's been far too long since we heard from The Falcons. This seasonal set was recorded in analogue at Vancouver's Russian Community Centre and has all the hallmark Falcons sounds. With the emotion meter registering high and the corn factor kept reasonably low, the application of Mike Beddoes' finger-style playing to these traditional tunes proves to be a great match.
They rock up Deck the Halls with a dash of Tequila, jangle neatly through Jingle Bells with some extra steel guitar and add combo organ for some bonus House of the Rising Sun flavouring on We Three Kings - an unlikely feat which works a treat. Ye Merry Gentlemen bounces along with some trademark Beddoes licks and even Peggy Sue lends a hand with Angels on High.
Meadowlands is a tribute to The Chessmen, though most outside of Canada will recognize the tune under various other titles such as Riding Cossack or The Rocket Man. Whatever, the intro on this Falcons version is an absolutely fabulous 40 second shimmering guitar duet which I'd love to hear developed further. As it is The Falcons go into a (comparatively) conventional uptempo version. I'm in the mood now - We Wish You a Merry Christmas too!
Alan Taylor, Pipeline Instrumental Review, London, UK

Long time no hear from Mike, Gary, Gord, and Andre but a Falcons release is not only welcome but is a major event. New Gandy Dancer discovered the Canadian guitar band very early in their career and they never disappoint. With that soulful and unique lead guitar sound from Mike Beddoes and the excellent musicianship all round, they turn what could be yet another 'big yawn' but well intended Xmas album into a great experience. The material is over-familiar (of course! There's a very limited number of appropriate songs) but the arrangements are not. The Ventures started it all with their mix of exciting intros and seasonal numbers in 1965 and The Falcons continue this legacy with snippets of House of the Rising Sun, Tequila, and Peggy Sue in there somewhere but played to perfection. The sound is not narrow, it is often a wall of guitars and percussion - the latter delivered crisply by drummer Andre on the likes of Angels on High and Come all ye Faithful. The guitars just carry so much feeling about them - sometimes multi-tracked. I am tepid about seasonal albums (bah - humbug!) but this is The Falcons at their best. I'll still be playing this well into the new year and beyond. **** (four stars).
Davy Peckett, New Gandy Dancer, UK
Featuring special guest Pat Gerow (Western Swing Hall of Fame & former Rhythm Pal) on steel guitar, and liner notes by legendary Canadian DJ Red Robinson

Available from iTunes, Amazon and more

"In listening to The Falcons' Canadian Christmas, I was instantly transported back to a better place in my mind, a place where talent was important and music had soul."
- from the liner notes by Red Robinson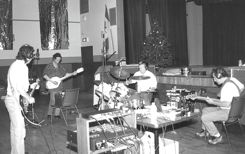 The Falcons (Mike, Gary Cramer, Andre, Gord) recording
Canadian Christmas
at the Russian Community Centre in Kitsilano