ATOMIC GUITAR
(FBM-101) CD
41 min.
Wild Tide/ Another Tear/ Western Dreams/ Endless Victory/ Ride of the Highwaymen/ Belair/ Desert Star/ 1979/ Boudoir Girls/Sandra (with golden hair)/ Kitsilano/ Atomic Guitar/ Sleep Walk
Steve Newton's Top Ten Albums of 2011 (The Georgia Straight)

Surf Guitar 101: Reviews by David Arnson & John Blair

Now on Youtube on The Falcons Music Channel:
Wild Tide


REVIEWS...

Some damn fine guitar playing from Mike Beddoes underpins this wide-open surf extravaganza, recorded live for good vibrations aplenty and packed with wistful soundscapes that would fit any roadtrip perfectly. Highlights include a storming Wild Tide, getting this collection off to a striding start; then there's the Western-inspired riffs of Ride of The Highwaymen and the woozy lap steel that dances over an absolutely blissful cover of Santo and Johnny's Sleep Walk. Lovers of surf guitar will go wild for this sound delivery.
Vintage Rock Magazine, UK

The ranks of instrumental guitar bands are still under-populated, but Vancouver, BC's the Falcons have been flying the flag proudly for 20 years. Lovers of the surf'n'twang sound will find plenty to enjoy in these 13 instrumentals written by lead axe-man Mike Beddoes, save for a version of the classic "Sleepwalk" that closes Atomic Guitar. This is the band's first album in seven years and it's already scoring rave reviews in Europe. Recording live-off-the-floor in analogue gives it a suitably retro sound and the Falcons fit nicely between the Shadows and Shadowy Men On A Shadowy Planet. They hang ten with surfalicious opening cut "Wild Tide," head into western terrain with the twangy "Another Tear" and "Ride of the Highwaymen," and get a little galactic on the space-y title cut. This is very cool stuff that'll sound even better on a hot summer day.
Kerry Doole, Exclaim Magazine, Toronto

Local instro-rock maestro Mike Beddoes leads his crack band in a collection of 12 trebly originals (and a lap-steel-infused cover of "Sleepwalk") that remind you why you loved the Shadows and the Ventures so much in the first place. (Top Ten Albums of 2011)
Steve Newton, The Georgia Straight, Vancouver

Atomic Guitar was recorded live off the floor in analogue at the Russian Community Centre on 4th Avenue in Vancouver. Those of us old enough to remember will know this as the location of the first incarnation of the Afterthought, one of the original psychedelic clubs on the west coast. There are thirteen tracks on the CD, twelve originals and a cover of Sleep Walk, a hit for Santo & Johnny in 1959 and also covered by Jeff Beck. Although rooted in earlier styles and recording techniques The Falcons are not a nostalgia act. Their sound is modern, wide-ranging and innovative. In their own words they play Canadian surf, western romance, barbed wire and space crash. In the liner notes Jolly John Tanner says they catapult "you into a perfect Tarantino soundtrack." Their website contains a useful history of the three great waves of instrumental rock and roll music that everyone should read. Instros for the atomic age indeed.
Robert Doule, BC Musician Magazine

The Falcons, based in Vancouver Canada, are longtime instrumental rock favourites, with a series of great releases over the years. This one is probably my favorite though - 12 original tunes, plus a cover of "Sleepwalk", that range from peppy Euro-instros to slow, melodic ballads, with a few mid-tempo songs thrown in as well. This is one of those rare discs that kicks off at a high level and doesn't quit until the end. If I have a teeny-tiny criticism, it's just that it ends with "Sleepwalk". While their version is good, it's just been covered too much, and despite its "classic instrumental" status, it pales in comparison to the other (original) songs. It comes with a nifty mini-LP style sleeve. * * * * 1/2
Sean Berry, The Continental Magazine

Canada's Falcons continue the fine tradition of guitar based instrumental music with a new 13 song CD, with 12 originals across the spectrum from Surf to Western, car themes, girls ["Sandra (With Golden Hair)", which features acoustic guitar], and of course with the title tune, Space Age as well. The last tune pays tribute to what to me is the greatest instrumental of all time in "Sleepwalk," with lead guitarist Mike Beddoes moving to lap steel for this classic. Originators Santo & Johnny are Canadians too! While I'm a great appreciator of lyrics, lyrical guitar can open up spaces in the mind that it's a great pleasure to explore - like diving into clear, cool water on a hot sunny day. In fact that's a good description of the experience of this CD!
Marc Bristol, Blue Suede News

Atomic Guitar: The Garage CD of the week.
Welcome to the space age where the future will be drowned in chrome. The Falcons cheerfully embrace pre-Beatles rock on their pointedly named Atomic Guitar. All the signposts for their 13 instrumentals are in place — lots of twang, surf tones, country gallop — but their one departure into reggae is kinda clumsy. Lead guitarist Mike Beddoes invests these songs with melodic invention. Sometimes it's fun to speculate on their inspiration — for instance "Endless Victory" sounds like it was built on The Troggs' "I Want You." Sure, that's obscure but the result is gloriously dumb. The Falcons approach their music in a similar way — they respect it but don't take it too seriously.
Tom Harrison, The Vancouver Province
It's been seven years but Canada's Falcons are back at last with their distinctive and unique guitar stylings. It's quite an achievement for an instrumental group to have such a distinctive sound, but the combination of Mike Beddoes' finger work and ringing tones really does give them a readily recognisable resonance.
A swift kick to the reverb spring heralds the fast flying Wild Tide that jingles, jangles and rumbles along apace. Mike's string-bending technique adds emotion to the mournful Another Tear while Western Dreams is a typical Falcons romper. Endless Victory is built around robust chord figures from Scott McLeod in unison with Gord Kearney's deep bass allowing Mike's treble twang to ring out proudly.
The likes of the fast-flowing melodic Boudoir Girls and chunky Kitsilano are pure Falcons while the metallic twanger Ride of The Highwaymen has a hint of Diamonds about its arrangement and the catchy Belair displays elements of The Ventures' Night Stick. Tucked away towards the end is the title track, a real stormer built around a two-note Penetration bass pattern and featuring sterling drum work by Andre DesLauriers.
With the exception of the finale Sleep Walk where Mike switches to a lap steel for a tasteful tribute to Santo & Johnny, the material on Atomic Guitar is all original and it's another winner from Canada's finest: The Falcons.
Alan Taylor, Pipeline Instrumental Review, UK

All originals except the last track and it's a big welcome back (after seven years!) for Canada's fabulous flying Falcons! There's just something about Mike Beddoes' lead guitar sound that gets me - totally unique, silky smooth, dream-like and so ooo oo evocative and every track carries the trademark Falcons sound. Little bit more raucous in parts than past efforts - the stonking "Belair" reminds us of The Ventures "Peachfuzz" and "Atomic Guitar" itself is the illegitimate son of The Pyramids "Penetration". That said, they both have a lot new to offer. "Wild Tide" rides strongly and (our favourite cut) "Another Tear" is just lush beyond belief. Not sure why it has taken all this time but the band is as tight and infectious as ever. There's a lot of instrumental releases this month (hurrah) but The Falcons gets our vote as album of the year - yes, already!" **** (4 stars)
Davy Peckett, New Gandy Dancer, UK

Top du mois: The Falcons Atomic Guitar -
The Falcons sont de retour, cet album conçu, et composé par les Falcons et Mike Beddoes, tous les morceaux à l'exception de Sleepwalk sont des originaux. C'est une réussite complète le son est toujours aussi pure, les Falcons sont des perfectionnistes, ils ont mis 7 ans pour réaliser cet album, qui plaira même aux plus exigeants. Bravo. ["Top of The Month: The Falcons Atomic Guitar - The Falcons are back, with this album conceived and composed by The Falcons and Mike Beddoes. All the pieces with the exception of "Sleepwalk" are originals. It's a complete success, the sound is always clear, The Falcons are perfectionists. It took them 7 years to produce this album, which will please even the most discriminating. Bravo."]
Jean Bachelerie, Guitarres & Batterie, Paris, France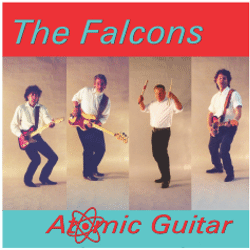 12 new original instros plus Sleep Walk, recorded live off the floor in glorious analogue, by real musicians playing real instruments, Atomic Guitar captures the signature Falconesque instro sound. Liner notes by legendary Vancouver DJ Jolly John Tanner. Complete with a handsome cardboard cover.

Available from iTunes, Amazon and more


" From the first track's crack of the whip, Atomic Guitar catapults you into a perfect Tarantino soundtrack with miles of amazing scenery rushing past. A stirring First Nations anthem driving across the plains. Classic mellow Spanish surf syncopation where sudden shadows soar. Here's finger pickin' that would've given Chet Atkins the chills. Welcome to The Falcons at their finest."

-from the liner notes by Vancouver Radio DJ Jolly John Tanner

Bedclothes Studios Mobile in action: The Falcons (Gord, Andre, Mike, Scott) recording
Atomic Guitar
at Kitsilano's Russian Community Centre, Vancouver BC